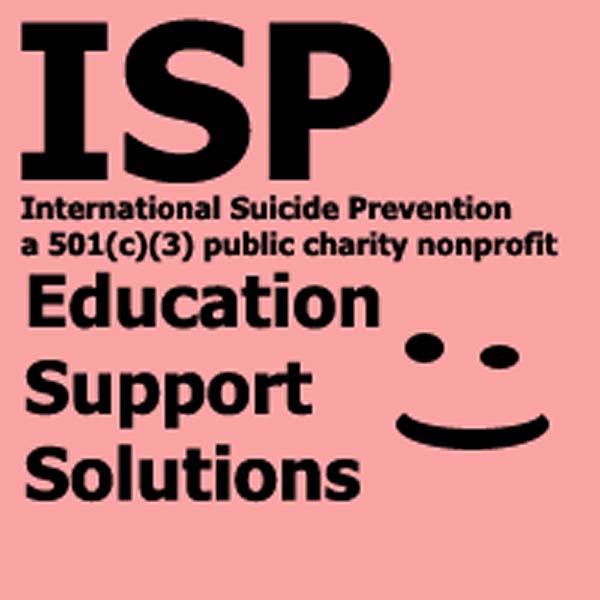 ISP is a 501(c)(3) public charity nonprofit. Servicing the needs of
those that are suffering from intense emotional pain since 2006.
Our NEW Initiative to lower
TEEN SUICIDE RATES
Get involved today!
Awareness is not enough!
Now there is awareness that
comes with empowerment!
First Self-Help for the suicidal
'Suicide Prevention Guide Booklet'
(S.P.G.B.) In 11 languages.



English
Real Self-Help online and FREE
4 Phase addressing
the cause of depression,
anxiety, P.T.S.D. and/or
suicidal thoughts (in 5 languages).
English, Russian,
Simplified Chinese, Italian,
and Arabic



4 Phase

We believe that all people have value
as each suicide directly impacts at least 7 other people
"Suicidal People are made, not born!"

Norman Farberow

Are you SUICIDAL?
FREE, SELF-HELP PROCEDURE, ANONYMOUS, ONLINE!
CLICK HERE, NOW! Courtesy of Nu-Rekall

™

Mind Science Technologies.

International Suicide Prevention

Community partnerships with:
Google (lifetime grant)
We R Community (five years in a row providing phone and internet access)
Wal-Mart, Lotus Broadcasting, Network for Good, click here to see more.

Special: Ralston Reports News 3 Live Las Vegas, Nevada.


Channel 8 News Now Las Vegas, Nevada U.S.A.


September 10 / World Suicide Prevention Day

Surprising up to date statistics and demographics
| here |

As seen on abc
'Good Morning America'
Because, suicide is a preventable cause of death.
| You can make a donation to support suicide prevention |
Become a community partner with (ISP) to print self-help booklets.

Matthew D. Dovel, president of ISP, and International Suicide Prevention Expert
The President of International Suicide Prevention is a proud member
of the Rotary Club of Dalmine Centenario, Italy. | facebook page |
Website | Rotary 2042 |
All procedures in use by ISP are property of: Nu-Rekall
International Suicide Prevention (ISP) a 501(c)(3) public charity nonprofit
1736 E. Charleston Blvd.,301 Las Vegas, NV 89104 702 743 4340
All donations are tax deductible tax ID: 20-4671131
Copyright 2006